Bespoke slurry Sizers provide crushing solution to two TBM projects in China
Given the country's high urban population densities, it's vital that the Chinese Government relieves the pressure on surface traffic. Two ambitious projects are under way to create new metro lines in Dalian (Line 5, running north to south) and Shenzhen (as part of the "Eastward Strategy"). Both initiatives have been driven forward by Slurry Sizers provided by MMD.
In October 2017, China Railway Equipment Group (CREG) ordered two Slurry Sizers to create tunnel boring machine (TBM) systems for both cities. This marked MMD's entry into the slurry TBM market, though the company has a broad background in tunnel boring crushing solutions.
On 31 July this year, the Dalian TBM system successfully passed through three karst cave groups, having traversed more than 2,000 metres. Along the way, the equipment had to bore through uneven soft and hard strata. The TBM created an enormous amount of pressure in the pipe, with the Slurry Sizer having to contend with an astonishing 7.5 Bar with a 20 Bar maximum, demanding a radical redesign of the equipment.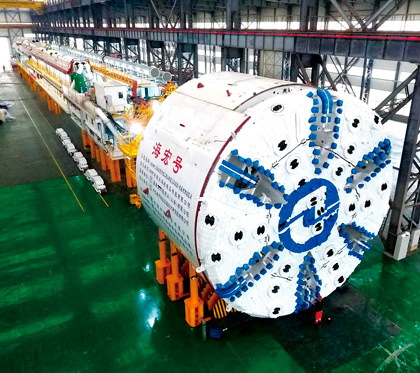 Meanwhile, the Shenzhen project required the largest China-made slurry TBM system, with a weight of 4,800 tons, a length of 135 metres and an excavation diameter of 15.8 metres.
Although both machines were designed capable of processing material reaching UCS 173.7 Mpa, each project created unique technical challenges in crushing material from the shielder, which could only be addressed via MMD's bespoke solutions. Developed within very tight timescales, the two Slurry Sizers respectively needed to manage 2,600m3 and 3,200m3 per hour of Bentonite slurry containing 330 and 420 tonnes of stone and convert an in feed of up to 300 or 350mm to an out feed of less than 150mm. The Sizers' low profile made them ideal for the confined operating space, as did their balanced crushing action, which creates minimal vibration, whilst their durability was also key due to the difficulty in changing the breaking caps within the space constraints.
Following extensive computer modelling, the Sizers were subjected to a stringent pressure test to ensure that they would perform reliably in the field – yet the entire process from initial enquiry to final delivery of the Dalian machine took little more than a year and a half.
"This was a landmark project for us," said Bill Liu, MMD China's Sales & Marketing Senior Vice President. "The design was totally tailor-made, with a new approach to the whole breaking case, shafts and caps. 20 months in, there has been no leakage and no need to change the breaking caps, which is testament to our incredibly thorough testing. Numerous customers have visited the Dalian site to see our equipment in action, and three of the biggest Chinese TBM manufacturers have approached us over collaborations. Most importantly, we're delighted to say that our Sizers have played a central part in transforming traffic in both Dalian and Shenzhen."