MMD Australia's updated ISO accreditations not only enhance internal operations and product quality, but have also proven valuable during the COVID-19 pandemic.
MMD Australia are now certified to International Standards Organisation (ISO) 9001, 14001 & 45001. Having successfully moved over from Occupational Health & Safety Systems 18001 to the new globally recognised ISO 45001. Together these qualifications require an independent assessment of how MMD's performance aligns with the needs and expectations of customers, as well as other valued parties such as the communities in which MMD operates.
MMD Australia are the first MMD company to attain ISO 45001 which crosses geographic, political, social and commercial boundaries, allowing MMD to set a benchmark and future proof compliance with a recognised safety standard.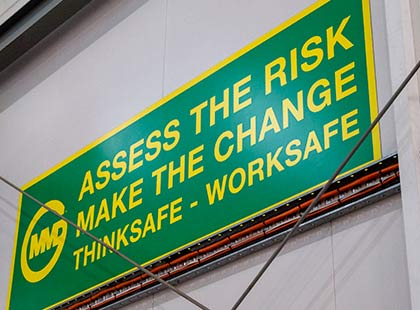 With several safety standards to be withdrawn in the near future and Australian standard 4801 being withdrawn at the same time, ISO 45001 closely aligns with the 9001 Quality and 14001 Environmental recognition MMD Australia has held since 2016 & 2017. Matthew Murphey - HSEQ Manager for MMD Australia commented: Compared to the OHSAS 18001 system its replaced, 45001 is much more risk management focussed. And the major advantage over the 4801 is that it's internationally recognised, whereas 4801 is great for Australia, it's not recognised anywhere else.
Lee Hillyer – MMD Australia's Managing Director added: With customers in New Zealand, Papua New Guinea, New Caledonia, and so on, it's important to be internationally accredited. The suite of ISO standards effects everyone right through the business. They place a high level of focus on management commitment, as well clearly defining roles, responsibilities and authorisations in consultation with all employees. Participation of all workers is key to identifying risks and feeding that information back into the loop.
ISO systems help with proactive and dynamic decision making and embeds a culture of risk based thinking, says Lee. Mining is very risk averse, everything on site is risk assessed and that's what we do throughout the whole business. So that way of thinking, that risk management, has actually prepared us well for something as unforeseen as COVID-19.
Because the practice is very risk focused, it can be trained towards adapting how the business can continue to operate safely and efficiently, irrespective of limitations such as social distancing. Matt says: You identify risks and put steps in place to mitigate them, and then continually review them for their effectiveness and make changes as and when necessary.
The benefits of having a quality process in place range from having defined systems and control mechanisms to drive consistency of service and product, to a focus on error prevention and continual improvement. By fully integrating management systems, the business is not only more efficient, but also demonstrates MMD's commitment to safe, healthy and sustainable work.
Lee summarises that: It's changing our processes on a daily basis. You plan and put measures in place to ensure you've got a feedback and quality loop. If you find something that's an issue or a glitch in the system, you look at it and you improve the process. It's continual improvement, and that's what ISO is all about.